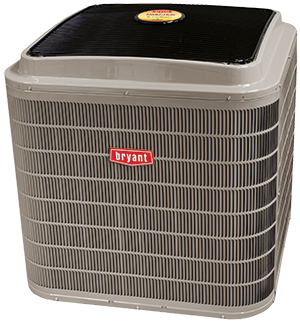 Your home should provide welcoming relief from the heat and humidity.  A reliable cooling system is the key to enjoying a good night's sleep, relaxing weekend, or productive afternoon.  At Comfort Heating and Air, we offer both economy and luxury in state-of-the-art cooling equipment.  Accurate installation ensures energy efficient, quiet operation, and delivers innovative features, without stressing your budget.  Our goal is to create a refreshingly cool home for you and your family to enjoy.
When you need A/C installation, put your trust in a professional!
Comfort Heating and Air is a full-service HVAC provider, dedicated to providing exemplary service and products to homeowners in Tahlequah and throughout Tahlequah, Park Hill, Keys, Cookson, Westville, Praire Grove, Farmington, Lincoln, AR & Stilwell, OK.  We bring together a team of highly skilled service technicians with years of in-field experience.  We are a Bryant Factory Authorized Dealer, which requires us to consistently meet exacting standards for business practices, customer service, and product knowledge.  Our installation team continues to receive factory training in equipment and technological developments, guaranteeing you superior workmanship and accurate recommendations.
We appreciate the importance of your investment into home cooling.  The performance and efficiency of your system will impact your budget and appreciation of your home for years to come.  At Comfort Heating and Air, we complete your installation project quickly, neatly, and with a high attention to detail.  We assist you in selecting the perfect solution to your household needs.  With an abundance of sizes and styles to pick from, the decision can be difficult.  A system that is oversized for the space will lower temperatures too quickly, and fail to adequately remove moisture from the air.  A system that is undersized will run non-stop, wasting electricity, and falling short of ideal temperatures on exceptionally hot days.  The specialists from Comfort Heating and Air will determine proper size, explain options, and make helpful recommendations.
Through leading-edge technology, Bryant offers intelligent HVAC systems that are programmable through Wifi and mobile devices.  These systems operate at superior efficiency levels, quickly recovering your initial investment.  Sophisticated Bryant Evolution systems continually address the temperature and air quality conditions within the home, and adjust operation based on the findings.  This safeguards against overcooling and temperature swings, and also conserves energy.  By setting up your wireless devices to communicate with the control, Comfort Heating and Air enables easy access and adjustment from anywhere you have wireless connectivity.
Superior products and expert air conditioning installation will keep you cool all season long!
Choosing Bryant cooling systems opens up a world of exciting features and conveniences.  PerfectHumidity controls humidity levels even when equipment isn't actively cooling.  With Bryant, you'll never need to worry about excess moisture or that awful, clammy feeling.  The Evolution System puts complete management of temperature, humidity, air quality, fan speed, and ventilation at your fingertips.  As one of the first to make the change to environmentally sound Puron refrigerant in their full line of air conditioners and heat pumps, Bryant improves performance and efficiency, while lowering sound levels.  With many ENERGY STAR qualified choices, these systems reach up to 20 SEER and sound down to 68 decibels.  A wide range of styles and sizes is certain to answer your highest expectations for comfort, convenience, and affordability.
Air conditioning isn't something you want to try to live without.  A wonderfully cool home is just the beginning.  Your cooling system also serves as a dehumidifier and filtration system, keeping the air you breathe clean and healthy.  You'll find relief from allergy and asthma symptoms, sleep better, and enjoy all the benefits of a more pleasurable home environment.  Through precise installation, prompt completion, and competitive rates, Comfort Heating and Air facilitates your investment into perfect comfort.  To further protect your interests, we offer ten year limited warranties.  Contact us at 918.822.2096 for a free estimate.  At Comfort Heating and Air your comfort is our priority.